How can training providers create a 'Purple Cow'?
We're big fans of marketing guru Seth Godin at Candle Digital, and in particular his best selling book Purple Cow. In fact, it's such a key part of how we help training providers that any new additions to our team get sent a copy to digest before they even join us for day one.
In short, Purple Cow stresses the importance for successful business to create remarkable products and services. Godin argues you've got two choices – to create something that delights, engages and stands out, or simply be invisible. In a world full of noise – where businesses are actively competing for your attention, it's increasingly difficult to cut through the noise, and in Godin's opinion the only way to succeed is to innovate and create something worth paying attention to.
We often get involved with training providers when they are first considering how to take their expertise online. As such, the concept of the Purple Cow  is something we discuss early on, as naturally creating a remarkable product is much easier to do before a single line of code has been written or any content has been designed.
We recently caught a presentation by the founder of Speexx, an online language training company from Germany. To us their product screamed 'purple cow' because:
The aesthetics and Ux (user experience) used throughout the product and platform are simply outstanding. They'd intentionally focussed on creating a product that was a smooth, slick experience for their audience, and it shows. Many similar services out there compromise on this by focussing too much on 'managing' the learner, and not enough on the end user experience itself.
It's easy to use. If I want to practice my English skills in the middle of the night, then an English-speaking coach is available 24/7 via their chat function.
They've considered the needs and wants of other stakeholders involved in the delivery of the product. As an associate involved in the delivery of Speexx's services I can easily understand what my calendar looks like through an intuitive dashboard, and as a HR manager I can get a gauge on how my team are improving whenever I want.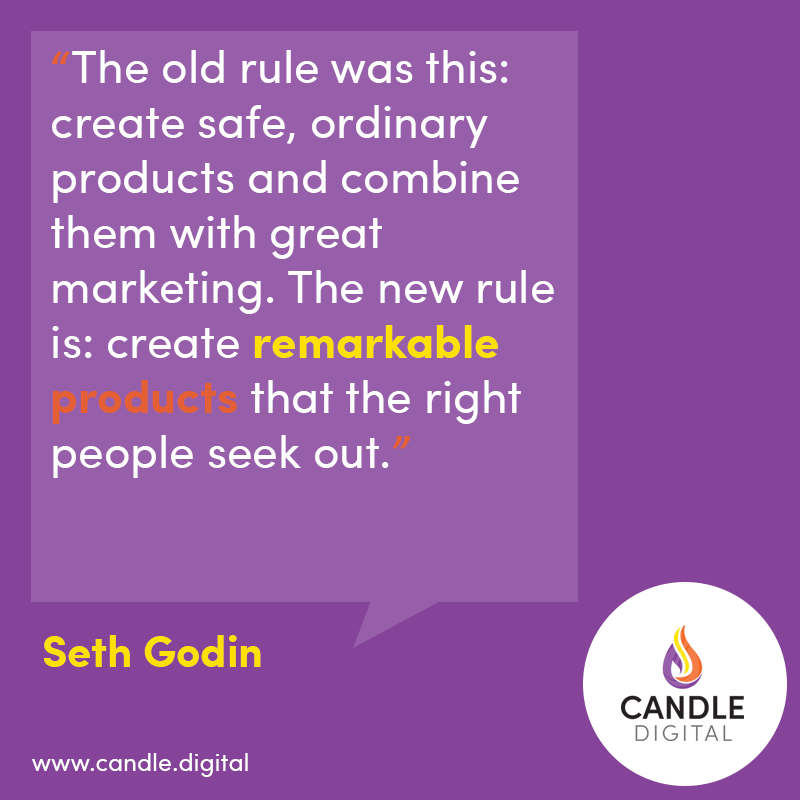 So if you're a training provider, what can you do to create a 'purple cow'?
It's a question we always pose our clients during the scoping stages of our work – "What is the thing that is going to get your product talked about?". For training providers, we firmly believe this should be intrinsically linked to the outcomes your interventions produce. Ultimately you should be working to deliver a solution that helps the person or organisation overcome the challenge they have asked you to help with – but to have any impact you need the proof of this too.
However it's also useful to consider if there are any 'bells and whistles' that can make your solution stand out. As an example, recently we've been developing a 'Resilience Hub' for our fantastic partners Resilient People. Acknowledging gratitude is particular aspect of wellbeing that's been proven to be important. We ran with this and created a bespoke feature, so that whenever a learner accesses the hub they are prompted to jot down a quick thing that are thankful for, which in turn drops into their virtual 'gratitude jar'. This is already proving to be of real interest when showcasing their new product to clients old and new.
Pose yourself these questions:
How much do you spend on marketing? If you took half of this on enhancing your product (and making more remarkable/noteworthy), what impact could it have?
Look at what the market leader is doing in your sector. If you did the exact opposite, what impact would this have? For example, if they sell online courses for a fixed fee, could you offer them as a subscription? If they only provide for a fixed time, what if you provided unlimited access time?
Imagine you are making a highly exclusive limited edition of your product for your 20 best customers – what would that look like?
It's difficult to market the 'best' – this is down to the perception of the person considering your product or service. What can you create that makes you the 'only'?
Don't forget to try the value proposition canvas too – this can be a useful tool to help you with some wider perspectives on how your product or service could be more remarkable. And grab a copy of Purple Cow on Amazon (or even better your local bookshop!).
Fresh insights direct to your inbox
Join the Candle Digital mailing list